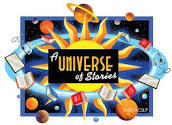 In keeping with the summer reading theme, our library readers are aiming for the stars this summer! The annual summer reading challenge is open to kids, teens, and adults. We have planned a special celebration for the reading challenge participants on August 15.  We also offer three weekly programs for different age levels.
Toddler Time on Wednesdays at 10:00a.m. is geared toward children aged 2-4 and their parents or caregivers.  Miss Nicole leads the group by reading short stories, singing songs and demonstrating simple finger plays on the story rug.  This is followed by a time for supervised crafts or free play with Duplos and puzzles.
Story Time on Thursdays at 1:30p.m. is geared for children ages 5-8. These children must be accompanied by a parent or caregiver. This is an hour of stories, songs, games and/or activities. Story Times start on Thursday, July 11.
The Monday Club meets for six weeks on Mondays at 1:00p.m. This program is for teens and tweens ages 9+. Each Monday features a different activity. This year the theme is "A Universe of Stories" so we will be focusing on creative activities that involve space-related topics. The first Monday Club meeting is on Monday, July 8.